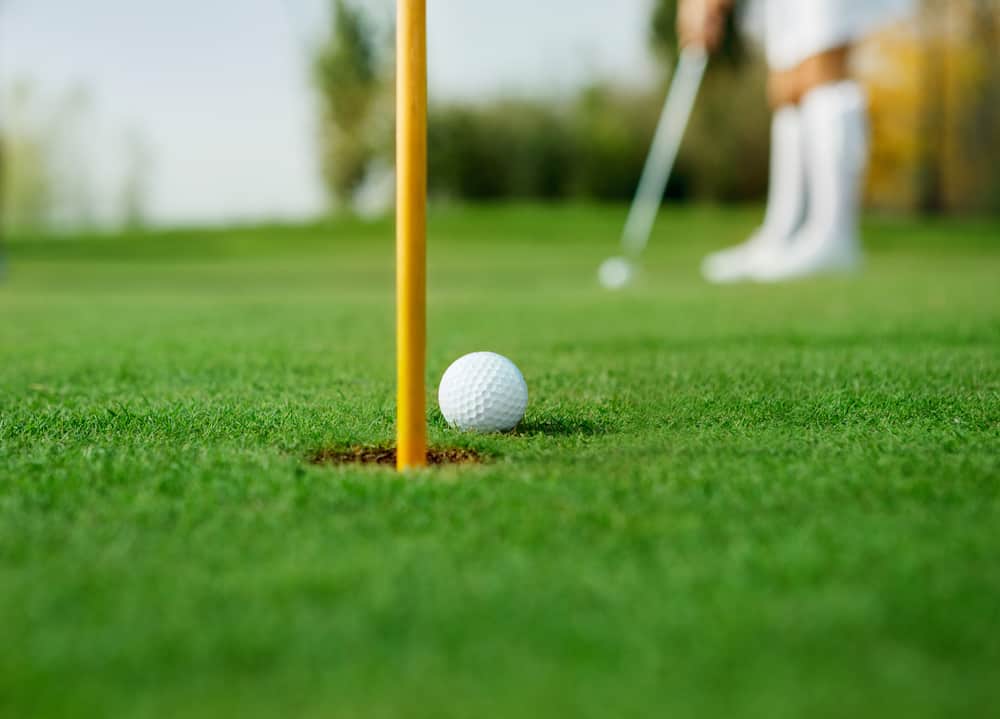 Golf simulators are a great investment for golfers of all skill levels who are looking to improve the overall level of their game. Beginners and even professionals can benefit from practicing with a golfing simulator, after all "practice does make perfect."
As you may be familiar with, these simulators utilize a projection screen and a specialized sensor mat to mimic a real round of golf. The screen projects stats like yards to the pin, wind velocity, and wind direction, while the mat records the velocity, club angle, and trajectory of the golfer's swing.
Other equipment like high-speed cameras, infrared sensors, and the actual simulating software work together to also measure and display the results of your swing. When you tee-off on your virtual course it may seem obvious how the software works, but you are probably also wondering how putting works on a golf simulator?
Putting on a simulator can be done in four ways: using the sensor and putting the real ball, using auto putt, inputting a guess of how many putts it would take, or using a separate putting green, placing the ball the distance you are, putting it in, then logging that in your scorecard.
While teeing off and honing an advanced repertoire of driving skills are important for every golfer looking to elevate their game, these same golfers would not be able to finish a single hole without working on their short-distance game as well. Most golfers already understand how important improving their green play is with respect to their overall skill. Thankfully, with a golf simulator you can also track your putting metrics, as the simulator presents unique putting challenges that mimic the slope, distance, and speed of real putting greens.
Below these characteristics and the four main methods of putting on a golf simulator are discussed and explored.
The Four Methods of Putting with a Golf Simulator
The following graph takes a look at the four various methods of putting with a golf simulator and compares their advantages and disadvantages. Below the graph these four putting methods are discussed and explored in further detail.
PUTTING METHOD
ADVANTAGES
DISADVANTAGES
Using simulator sensors
•Test users skills on various greens with various slopes, speeds, and skill levels
•Takes a while to get used to
•Involves learning the display of the putting simulator
•Accuracy can be questionable
Additional putting green
•User has the freedom to set up additional putting green how they see fit or based on what they wish to work on
•Builds Putting Skills
•Putting green never changes slope, speed, or design unless user decides to redesign the green themselves
Auto-distance putting
•Removes hassle of setting up putting for shots of a particular distance
•Putts within the designated distance never get practiced or improved upon
Auto-putt
•Quick and simple, frees up more time for user to focus on their driving and longer approach shots
•Putting never receives any practice or consideration
1. Using the Golf Simulator's Putting Sensors
The first method of putting with a golf simulator utilizes the simulator's sensor system and its ability to track the speed, angle, and distance of your stroke and represent this virtually on the green. When putting this way with an at-home golf simulator it is important that you remember to pay attention and focus on the data and metrics provided by the golf simulator.
Do not focus on the distance, slope, or angle at which the actual golf ball lies away from your projection screen. This real-world data will ultimately misrepresent the distance your virtual ball is away from the pin.
Always try and putt straight, but move your aim on your simulator system. Simulator sensors don't read the accuracy of a tilted club very well.
2. Using an Additional Putting Green On your Golf Simulator
The next method one can use to putt with a golf simulator is putting up a separate at home putting green and manually inputting how many strokes it took you to finish the hole. We like this version as it has some grass you can chip from as well as some slope to greatly improve your putting game.
When using this method it is important to place the golf ball at the approximate distance your golf simulator displays you need to cover to reach the hole. This method of putting with your simulator will relieve the stress associated with putting towards the projection screen and provide you with control over the layout of your putting green.
However, this method will ultimately also result in putting on the same green over and over. This repetition may not be a problem at first, but after a while, you may want to switch up the layout and metrics of your putting green.
3. Automatically Sinking Putts Within a Designated Distance on your Golf Simulator
The third method of putting with an at home putting simulator designates a certain distance, typically around 4 or 5 feet from the pin, and then automatically provides you credit for sinking any putts within this distance.
This method will allow you to speed up your simulated round of golf and free up more time to focus on shots that may better enhance your golfing skills. Any putt that occurs outside of this designated distance can then be completed using one of the two above methods.
The main disadvantage of using this method of putting is that you will no longer receive any practice on putts within the particular distance you set. Obviously, this problem can be elevated with additional close range practice on a putting green.
4. Golf Simulator Auto-putt
The fourth and final method of putting with your at-home simulator takes the third method and essentially increases the distance to include all putts. All putts using this system will automatically be recorded as a one, two, or three put based on your golf balls distance from the pin based on the difficulty of the shot.
Using this method of putting will speed up the play of your simulated round significantly and free up a large portion of time for you to focus on longer and more challenging shots. However, this method will also result in you never practicing your putting. Therefore, you may find that you need to spend additional time practicing on the green play outside of your simulated golf rounds.
No matter what method you choose to utilize, putting with a golf simulator can take a bit of practice to get used to. However, the quicker you adjust your mindset to focus on the virtual metrics, the quicker you can begin to improve your short game.
General Look at Putting with a Golf Simulator
How does putting work with a golf simulator, is a popular question surrounding the sport and the various at-home simulators many golfers use. In short, there are four separate ways putting can work with a home simulator.
However, if one decides to use the sensor system attached with the putting software to putt then the software works similar to driving or any other swing with the simulator. When you putt with the simulator, sensors in the mat track the velocity, speed, and trajectory of your putt.
These aspects of your stroke compared with the slope, distance, and speed of the virtual putting green you are practicing on will provide the end position of your ball. It is typical that before you putt, the virtual tracking sensor system you are using will produce a light where you should properly place your ball. Placing your golf ball in this exact position, before putting, will allow you to receive the most accurate data and ending lie of your stroke.
If you have an infrared sensor, you may need to place the ball between sensors.
At first glance, putting with a golf simulator seems simple, so you may be wondering why golfers frequently get frustrated with their putting practice while using an at home simulator. Ultimately, this frustration is usually a product of the golfer misreading the data that is provided by the sensor system.
I have noticed that sensors tend to be very sensitive when you are putting. Always take care to be straight and concise when putting, or it can over exaggerate your putt.
The Metrics of Putting with a Golf Simulator
When you putt with a golf system it is easy to misrepresent how far and at what slope the hole you are putting towards lies. This misrepresentation normally occurs because you are focused on putting towards the projection screen which is most likely at a different distance than the hole you are virtually aiming at.
For example, if your ball is on the green at a distance of 15ft away from the hole and the physical golfball is only about 8ft away from the projection screen, you need to imagine you are putting at a distance of 15ft not 8ft.
Other factors such as the slope and break of the putt will also have to be imagined by you to mimic the green you are practicing on virtually. An upwards lie of about two feet will require you to add more velocity behind your putt to reach the hole, even though in reality your ball is still the same distance away from the screen.
On the other hand, a downward lie of two feet will require you to putt with a strength that produces a slower pace. Don't worry if putting it towards the projection screen to mimic the distance you are away from the virtual pin seems too confusing. There are three other methods you can use to putt with a golf simulator.
Good Luck Improving Your Golf Game!
In summary, a golf simulator is one of the best ways to improve your golf game within the comforts of your own home. As you have read, these simulators not only are effective at improving a golfer's long distance drives and tee-offs, but can also greatly improve a golfer's on green reading and putting skills. These results are a product of the golf simulator's ability to virtually project a wide array of golfing greens that contain different layouts with unique slopes, speeds, and distances.
If you are looking to improve your short distance golf game via practicing with a golf simulator, it is important you decide which particular method of putting works the best for you. For some putting with the simulator sensors may provide the best practice, whereas others are more focused on driving with the simulator and will appreciate the auto-putt method. Shortly after getting the hang of this you should notice your putting skill to increase. Good luck, and enjoy your next round of golf!