Most people know that electricity and water don't mix, so it's important to not let your golf cart battery charger get wet and keep electrical cords and connections out of the rain. However, there's a fine line when it comes to leaving electrical devices, such as battery chargers, exposed to moisture. Some devices are more resistant than others. For that reason, many people wonder if golf cart battery chargers can get wet, or if moisture will ruin them. 
Golf cart battery chargers typically aren't waterproof and shouldn't get wet. While they're durable and protected enough to withstand small amounts of rain and moisture for short periods of time, letting your golf cart battery charger get wet constantly isn't a good idea. 
In most cases, neither golf cart battery chargers nor the batteries they charge are waterproof. They're typically made of metal, which means they're also prone to rust and corrosion when they get wet. Therefore, it's a good idea to keep your golf cart charger out of harm's way by protecting it from moisture. 
What Happens When a Golf Cart Battery Charger Gets Wet? 
Despite having a hard, metallic shell on the outside, most of the internal components of golf cart battery chargers are electrical. They have an abundance of wires and connections within them. While many of these connections and wires are protected, some of them are left uncovered and are prone to damage. The motherboard and fuses on your golf cart charger typically aren't protected either. 
As a result, golf cart chargers have some protection from moisture on the top, bottom, and sides, but there are cracks and gaps where moisture can leak into the inside of the charger. If moisture gets to the right part of the charger, it will cause an electrical malfunction and damage the charger. 
Additionally, because chargers are made of metal, they're prone to rust and corrosion. While this won't ruin the charger right away, enough rust build-up will start to hinder the charging process. There's also a chance that the charging cable and prongs will get damaged when they get wet. If this happens, your charger won't work and you're also at risk of electrical shock. 
What to Do If Your Golf Cart Charger Gets Wet
As we said before, depending on the type of charger you have, a little bit of moisture won't ruin it. However, if you go to charge your golf cart only to realize that the charger is wet and no longer works, it's important to act quickly. Just as phones are salvageable when they get wet, you can also attempt to revive your golf cart charger, and here's how. 
Unplug the charger immediately and take it to a dry area, preferably in your house or shop. 
Take the cover off the charger so you have access to the internal components. 
Do your best to track where water has gone on your charger to determine if just a single component is damaged. 
Check the fuses and motherboard for moisture. 
Check the different wires and connections for moisture. 
Disassemble anything that's wet and remove it from the charger so that it can dry properly. 
Replace any wet fuses. 
You can also place wet components in a bad of rice in hopes that it will draw out the moisture. 
After a day or so, reassemble the golf cart battery charger, plug it in, and see if it works. 
If the charger still doesn't work, you'll have to purchase a new one. 
If your charger is wet but still works, it's still a good idea to give it a good shake and give it time to dry out before using it.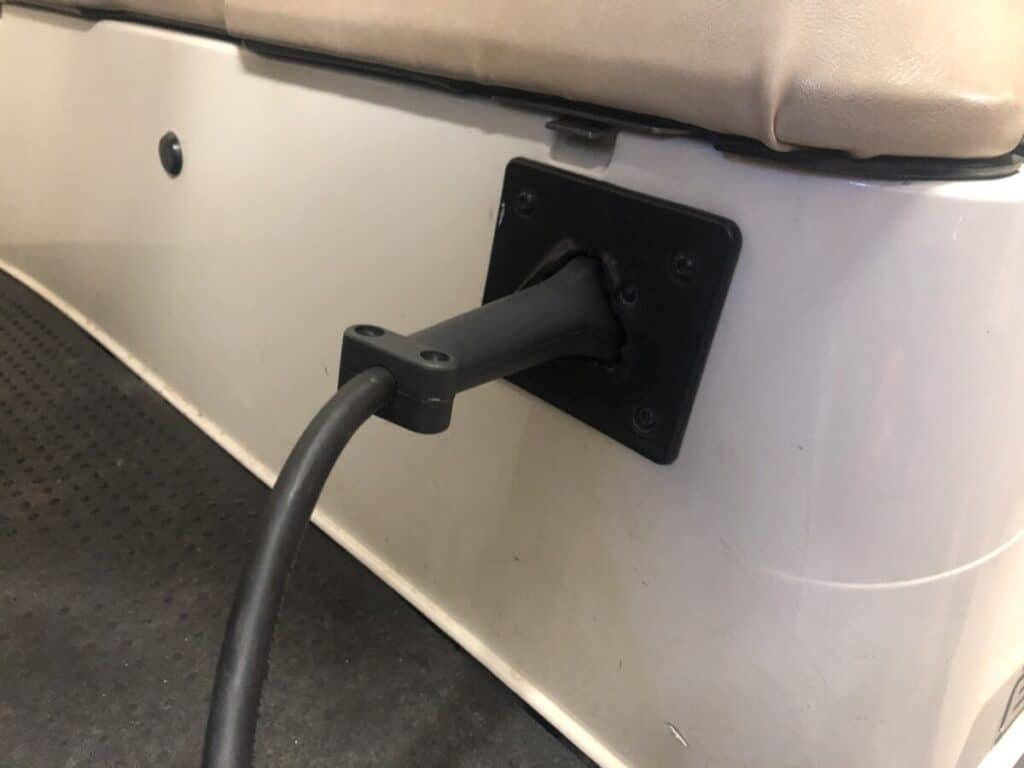 Forms of Moisture That Can Ruin a Golf Cart Charger 
Rain 
When you think of a golf cart charger getting wet, the first thing you probably think of is the rain. Not only will rain ruin a good day of golf, but it will also wreak havoc on your battery charger. While some golf cart chargers are "waterproof" and designed to withstand the occasional rainstorm, you can never be too careful, and there's a good chance that rain will ruin your charger. 
Dew, Humidity, and Condensation 
In most cases, dew, humidity, and condensation don't create enough moisture to make your golf cart charger wet enough to ruin. However, if you submit your golf cart charger to the elements often and long enough, it will start to corrode and rust. 
Flooding
Whether you have a waterproof or standard golf cart charger, it will get ruined if it's fully submerged in water. This can happen as a result of flooding or dropping it in a pool of water. 
Are Some Golf Cart Battery Chargers Waterproof? 
There are indeed some golf cart battery chargers that are considered waterproof. These chargers have extra external and internal protection to guard them against rain and moisture. However, even waterproof battery chargers are prone to rust and will get ruined if they're fully submerged in water. 
How to Protect Your Golf Cart Battery Charger From Moisture
Whether you have a standard or waterproof golf cart battery charger, you should protect them the same way, and here's how. 
Keep your charger under a roof or shelter to protect it from rain. 
Keep the charger in a conditioned building to protect it from humidity, dew, and condensation. 
Never leave your charger sitting outside overnight or during a storm. 
Invest in a waterproof cover or bag to store your golf cart charger in when you're not using it. 
As long as you're responsible and don't leave your charger sitting around where it can get wet, it should have a long and healthy life. 
Time for a New Charger if your Golf Cart Battery Charger Gets Wet
If your battery charger in fact did get wet and doesn't work, our favorite charger is this model. It is shown in the RXV model, but the charger is available for Club Car, Yamaha, and all of their models.
Frequently Asked Questions 
Can golf cart chargers get rained on?
While some golf cart chargers are waterproof and can withstand rain, it's never a good idea to let it get rained on. Rain can get inside the charger and damage it, or cause electrical shock to those near it. 
What happens if golf cart battery charger gets wet?
If you have a waterproof golf cart battery charger that gets wet, give it time to dry out before using it again. However, if your battery charger gets wet and isn't waterproof, it will likely stop working. 
Can battery chargers be in rain? 
No matter what type of battery charger you have or how waterproof it is, you should never leave it in the rain.